When it comes to electrical outlets and most other components that are installed within electrical enclosures, it is smart to consider the product grade. Most all architectural building materials and electrical components are available in different grades. These designations are sometimes arbitrary and may be defined simply by price. The more expensive a product is, you can generally assume it is of higher quality.
Even electrical enclosures which are specified by NEMA type will still have different grades of quality construction and workmanship. No matter with the grade, all electrical building components, including electrical enclosures, will have exacting specifications and are graded for a specific application – such as medical grade electrical components.
Some systems may use certain 'quality grade' systems for the entire commercial or industrial construction or renovation project. An 'A' grade project would use higher quality and more costly, building materials and workmanship. A 'D' or 'E' grade project would specify building components of a lower quality and price.
Continue reading for a brief description of the qualities to be found in the 4 grades of electrical building components as it applies to electrical outlets: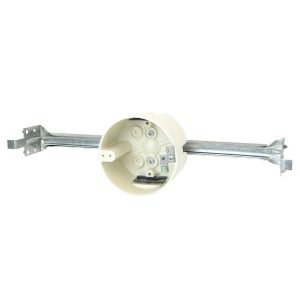 Residential Grade (Light Duty)
Commercial Grade (Medium Duty)
Medical Grade
Industrial Grade (Heavy Duty)
4 Electrical Component Grades
Residential Grade
A residential grade electrical enclosure is typically the least expensive cabinet or junction box available. It's not that they are of a lower quality workmanship, but because home electrical voltages are predominantly 120V and 220V, these electrical cabinets feature lighter design and manufacturing specifications. Expect residential grade electrical components to last up to 10 years of service, depending on usage.
Commercial Grade
When it comes price, commercial grade outlets and electrical enclosures may cost slightly more than residential grade, but they can stand up to the higher demand and even some punishment from customers that may bang a shopping cart now and then. Expect these durable electrical enclosures to last over 50 years under normal use and conditions. Commercial grade electrical components are recommended for high-end homes or for residential power and electrical outlet boxes that will be plugged in constantly. These include appliances, computers, and general area lighting fixtures.
Medical or Hospital Grade
Medical grade electrical outlet boxes and receptacles installed in electrical boxes are designed to be highly reliable and extremely durable. Fiberglass and polycarbonate electrical enclosures are often used for surface mounted electrical components that need to be more attractive and will not rust during hose down or cleaning.
"Hospital-grade receptacles are identified with a green dot on the face of the receptacle and the words "hospital-grade" usually are stamped on the device's mounting strap."
Industrial Grade
Industrial grade electrical components and electrical enclosures are often referred to as 'heavy-duty'. These electrical control, lighting and power components can take continuous duty operation for factories that work a 24-hour schedule. Other features of industrial grade electrical enclosures or other components include a thicker, steel construction, the ability to withstand higher temperatures, and some are designated to be used in hazardous locations.
For a wide selection of residential, commercial, and industrial grade electrical outlet boxes and electrical enclosures of all sizes, visit us at Allied Moulded Products Inc.
Sources
https://www.ecmag.com/section/codes-standards/do-we-need-hospital-grade-receptacles#:~:text=The%20NEC%20requires%20listed%20hospital,517.19(B)(2)